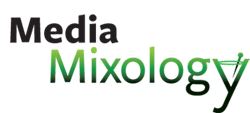 SRDS Agency Networking Event
Wednesday, October 16, 2013
Gansevoort Park Avenue
---
media mix · ology:
noun
a gathering of media-minded professionals having fun & learning together.

Media Mixology is a series of after-work events for media planners and buyers. These events mix fun and networking with media insights and information.
Thanks for joining us at Gansevoort! It was a lovely night at the Pool Bar, networking and socializing with colleagues and agency media professionals. We hope you had a chance to meet our sponsors and hear about their latest offerings.
Learn more about how EcoMedia is benefiting neighborhoods and local communities through its unique ad offering. Watch the video here, or visit ecomedia.cbs.com. By the way, did you try EcoMedia's Signature cocktail? To see our other favorite recipes, click here.
Photos
(View or download images from Flickr)
Thanks again to our Sponsors!
Presenting Sponsor: