Sample agency users
Updated December 2013
BBDO
Beachbody
Campbell Mithun
Campbell-Ewald
Carat
Cramer-Krasselt
Deutsch
Global Media Works
GroupM
Harmelin Media
Havas
Hill Holliday
Horizon Media
ID Media
Infogroup
Initiative Media
JPiper Media
Kelly Scott Madison
KSL Media
Martin Agency
Martin Williams
Mediacom
Mediaedge: CIA
Mediavest
Mindshare
Mullen
Novus
OMD
PHD
Re: Sources
Richards Group
Spark Communications
Starcom GM
Starcom Worldwide
The Star Group
Universal McCann
US International Media
Working Media Group
ZenithOptimedia
Zimmerman
---
Be Found, Considered & Understood by Active Buyers
SRDS. Where media decisions are made.®
---
Active media planners and buyers rely on srds.com to find, consider and understand media brands for their integrated campaigns.
Since 1919 we've collected, curated and delivered the data media buyers need to connect with media sellers. We started covering newspapers, magazines and billboards, and as new media channels spring up we bring them into our database. Over the decades, we've added radio, TV, direct marketing, the internet, online video, even tablet apps.
SRDS users compare media brands, evaluate your rates and audience, and use direct links to view your website or email an RFP.
---
Keep your data current.
Media buyers want to know how to contact you, what your audience is, your editorial calendar, your special digital offerings. If you don't keep your data current in SRDS, they can't reach you when they want a quick answer so you can make their plans. Contact our data team here.
---
Promote your brand.
A basic listing in SRDS just isn't enough to make the plan. Premium listings deliver higher ranking and more compelling, actionable data in search results and your listing.
Display ads tell your sales story 24/7: before, during and after the RFP. Make your statement in the competitive, multimedia world. Media buyers develop integrated plans from a media landscape that is more complex than ever. They use the SRDS multimedia planning platform daily to navigate that landscape and effectively identify their best options from 125,000+ media brands.
Marketing services help you create a Video Media Kit taking your brand proposition to media planners in a dynamic format. Spend part of your media kit printing budget here. We can also help with your ads for SRDS.
Take a closer look at how you can appear in search results.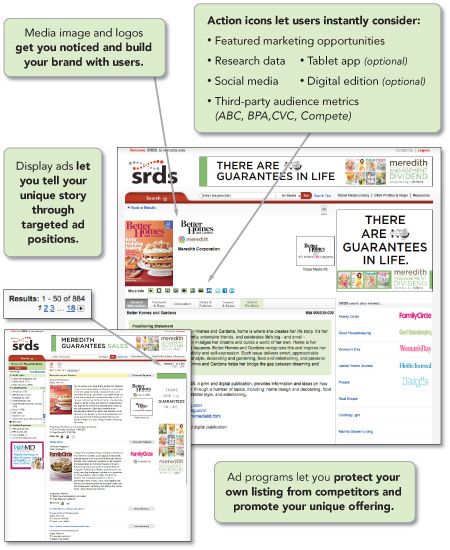 ---
Here's what your peers are saying about their ads in SRDS.
SRDS has consistently driven us new business. For example, one of our better clients, a new Florida company, was looking for advertising solutions and their response to our ad resulted in dynamic results for them & and significant revenue for us. With SRDS, we're seen by the media buyers who make the decisions. SRDS works.

Dean Ridings, President & CEO, Florida Press Association/National Newspaper Placement Services
I could not be happier with our presence in SRDS. As you know, I've always been a true believer since my days at ESPN. You fish where the fish are. This is point of purchase advertising.
When I worked on a CPG product, we would always pay supermarkets a fat fee to put us on a table at the end of an aisle.
SRDS is the ultimate POP product. I love that.

David Lehmkuhl, Media Brand Consultant
As a result of advertising with SRDS we found a significant uptick in interest from advertising agencies and have since closed business directly as a result. It's been a worthwhile investment.

Brian Cuthbert, VP & Publisher, Consulting magazine
Just letting you know out of the 2 leads I got from your service so far, 1 came through yesterday, a company on the West Coast opening a location near me. It's just for a grand opening, but they are sending out a lot of inserts through us and it's a nice size job. Just wanted to let you know. Thanks for soliciting me!

Jeanette Frisina, Market Place Publications
I've been promoting in SRDS for 6-7 years and each year I have found that we get several campaigns from ad agencies we have had no previous contact with. We ask where they heard of SD Times and they tell us that they found us in SRDS. Our advertising in SRDS more than pays for itself, year after year.

Ted Bahr, President & CEO, SD Times Magazine
Chief Executive took your advice to increase exposure in SRDS, with a goal to increase the number of inquiries coming from ad agencies and marketers. Within weeks we received an RFP from an agency for a leading financial institution, which resulted in a sale equivalent to 10X our investment with you. Thank you for your diligence and support.

Phillip G. Wren, Vice President, Associate Publisher, Chief Executive Magazine
As we reviewed past results, the SRDS metric of "looked at listing" out-performed every other (ad related) site click-through rate by a wide margin. Fast Company received 24 RFPs from agencies that we never had before our SRDS campaign.

Mike McHale, Founding Partner/Chief Media Officer, CLEVERWORKS LLC
I wanted to let you know we had a great week. We received several leads through our ads in SRDS. You're one of our top lead generators, which makes me think I should step up our program in SRDS.

Jim Young, CEO, Independent Restaurateur
I do appreciate the help I get from SRDS! Just yesterday I received a call from someone who got our information from SRDS!

Brenda Williams, Advertising/Circulation Manager for Faith Magazine, Erie PA